What is On-Page SEO?
Whenever you open a website, everything you see, like articles, contact forms, pictures, or just about any other widget or type of media you can think of, is part of on-page SEO. Not only is the content part of it, but so is the way the website loads, the layout, and even the outbound links for social media or references in articles. On-page SEO is the most crucial area of SEO because if your website does not load quickly or offer valuable content, it will keep users away, and without traffic, your ranking suffers.

The goal of on-page SEO is to optimize your content to make it accessible not only to users but also to search engines. When a search engine crawls your site, they only read it as an HTML file, so there are gaps whenever it encounters certain types of content. That is why metadata falls under on-page SEO because they help fill the holes that search engines create, allowing it to understand what is on that page. Optimizing the different types of tags also assists search engines with indexing, especially the title tag since it is the first piece of content a user or crawler reads.

On-Page SEO has three main areas of focus, and those are optimizing your page's content, elements, and code.
Optimizing Content
First, it's essential to understand what falls under content to understand its importance in on-page SEO. Essentially, content is information you present to users to help them satisfy their search query. A searcher could be looking for a product, which means that the best content might be a sales page; however, it is more likely that a searcher is simply trying to answer a query. One way to provide good content is by consolidating information from various sites; however, it is vital to be careful about where a page links to because a page can be penalized for linking to spammy sites. Great content aims to attract people to your page; it needs to cut through the noise by doing something unique while satisfying their search query. The best way to do this is by creating engaging content that adds value, such as giving a helpful tip or adding a new relevant case study.

The most effective way for your content to rank is by using keywords; using your keyword within the first 100 words is a great signal to search engines that your content is relevant. However, this does not mean you should keyword stuff, keep your use of keywords tactical and use them only when it feels right. It might seem obvious, but also make sure that your content is relevant to the keywords you are trying to rank for, do not write content about cars for a keyword related to makeup. Remember, even though a search engine crawls your site, you are still trying to get people to read your article to drive traffic.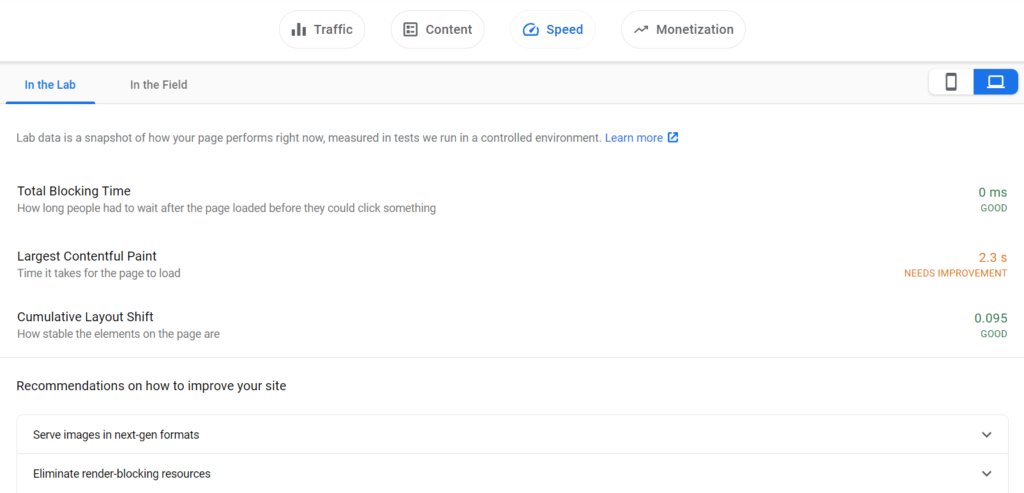 Optimizing Elements

Have you ever been annoyed by a page because it took too long to load, making you leave the website altogether? The reason was that the web developers did not optimize the on-page elements; it doesn't matter if it happened while on mobile, a tablet, or desktop; a webpage should never take longer than three seconds to load. Core web vitals test the speed, responsiveness, and stability of the page loading experience for users. Google search console provides a lot of this information; however, if you do not have enough visitors, it will not show you any core web vitals. One way to see responsiveness with little traffic is by connecting the google site link and using its Test Speed feature; it will measure how long certain elements take to load and give you recommendations on how to fix them.

Your URL is also a critical page element that needs to be optimized. A URL is simply an address that loads a particular site or document, but it also describes to visitors and search engines what the contents of the site are. Keywords are used to play a more significant role in URLs, but it is not as important for ranking as it is an aide to the page's contents. Unfortunately, URLs are set in the design stage of a website; although you can always change them, that page will already have a position for specific keywords, changing that will make you lose that rank. If you are optimizing URLs from the start, then the best thing to do is use your URLs as a sitemap; if you have an article, for example, it would be under your blog section, so your URL should look something like this: www.domain.com/blog/articlename.
Optimizing Code

You first see the page's title when looking at organic search results. Usually, that tile is the page's title tag or H1 tag. A heading tag separates headings and subheadings on a website; the most important is your H1, which is treated the same as a title; however, realize that it is not the same as a title tag. While WordPress automatically sets your header the same as your title tag, note that usually, a web result includes the brand name or website name in it after a vertical bar, hyphen, or colon, so it is best to set them separately. Best practices recommend only using one H1 tag, but use it consciously if you need another. H2 labels do not come out in titles, but they still have value because they help tell a search engine what your web page is about, so optimizing them by using relevant keywords is helpful.

The other few pieces of code that should be included in a website are called metadata, which describes other data and includes things like meta tags, a small snippet of text that identifies essential information about the page. As mentioned before, a search engine crawler only reads the HTML code of your page, so if you have information that a search engine cannot see, as an image, providing a meta tag about that image can help the search engine understand the content better. Meta descriptions are a block of text displayed in a search result under the URL; it briefly describes the page's contents. If a search engine does not find a meta description, it will develop its own; that is why to help increase your click-through rate, it's best to write your own so you can include a call to action and drive more traffic to your site.
Remember the goal:

When optimizing your on-page content, remember the purpose; it is not just about writing compelling content that will drive traffic but also about helping search engines understand what's on that page. As long as you create great optimized content, you will have a reason for traffic to come, but if the on-page elements are not optimized, there will be no way to deliver that content to the readers because the experience will drive them away. The same goes for search engines; even though a page gets the interest it needs if not described using optimized headers and metadata, a search engine does not know what it's about and won't rank it accordingly. If you keep the goal of on-page SEO in mind, creating an excellent experience for users and search engines, your content will always be accessible.